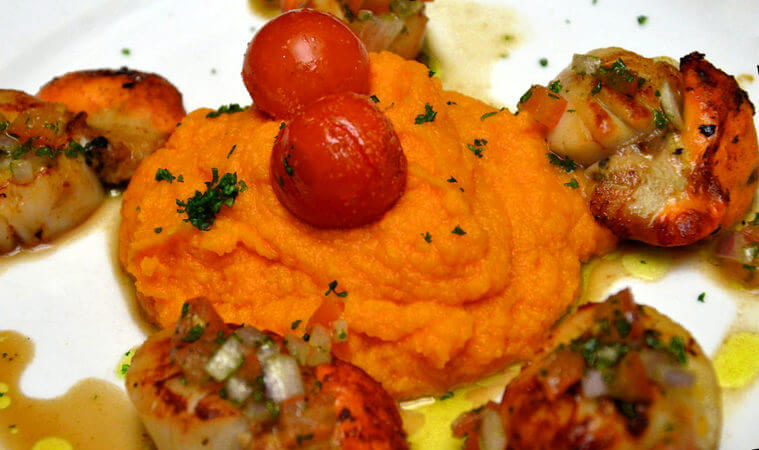 Sweet potatoes are a delicious alternative to regular potatoes. They make a great mash, they taste awesome basked and you can include them in soups, stews and curries just like regular potatoes.
Try this mash recipe with refreshing asian flavors and I think you'll be impressed. It makes a great side dish to a meat stew or casserole.
Ingredients
5 x Sweet Potatoes
5 x Lemongrass stalks
1 x Galangal stalk (or fresh Ginger, but use less)
2 Tbsp x Coconut Milk
1 Tsp of Extra Virgin Olive Oil
Salt & Pepper to taste
Mint Leaves chopped to garnish (optional)
Method
Chop and bring your sweet potatoes to the boil. Simmer until soft – about 10-15 mins. Don't worry about peeling them, you really don't need to.
While your potatoes are simmering, prepare the rest. If you have a juicer put the lemongrass and galangal through it to get the juice. If you don't have a juicer, chop them and fry gently in oil until the soften – juicing works better though.
Mix the lemongrass and galangal with the coconut milk and olive oil. Add salt and pepper.
Mash the potatoes once soft, then stir through lemongrass mix enjoying the waft of fresh aromas. Taste and adjust the seasoning if needed.
Sprinkle chopped mint over the top and serve.
You'll probably want to serve it as a side dish – but frankly it tastes so good I can just eat it on it's own 🙂
So Is Sweet Potato Healthier Than Regular Potatoes?
The good old fashioned spud has taking a bashing in recent years as it's believed to have a much higher glycemic load than the sweet potato. The true story however is much more complex than that, and the reality is they really aren't that different. It's more a case of what you do with them, so it's not really worth worrying about that much.
Just keep your eye on the bigger health picture, stop worrying about the minute details and enjoy a wide range of good foods 🙂