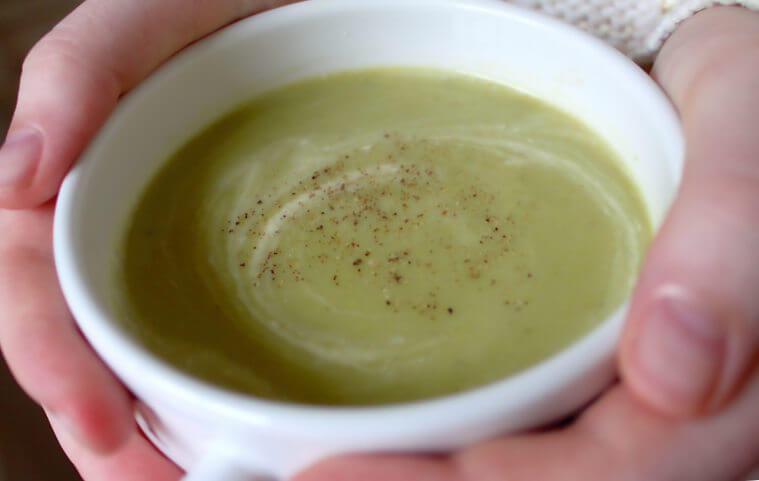 OK, OK, I know this smoothie sounds a bit unusual – but that's because we're used to smoothies being fruit based and sweet. Well, this one is savoury, and surprisingly delicious.
It is a smoothie because that's exactly how you make it, blending up all the ingredients without any cooking. But it may help to think of it as more like a soup – because soup doesn't have to be boiling hot to be really tasty. This is actually made with some hot (NOT boiling) water which makes it deliciously warm and flavorsome. You can go 100% cold if you prefer but I find it actually enhances the flavors and makes it a more comforting drink.
Oh, and did I mention this recipe is absolutely jam-packed with nutrition, including up to 7 superfoods (depending on your definition of the phrase).
So, here it is, broccoli with garlic and cilantro smoothie.
Ingredients
2 cups broccoli
1 garlic clove
2 tbsp miso paste
1 orange (peeled)
1/4 cup almonds
1/4 cup dates (remove the pits!)
1/2 tsp coriander
1/2 tsp paprika
1/2 tsp turmeric
1 cup cilantro
1 1/2 cups hot water (not boiling water!)
1 avocado (peeled and destoned)
Method
It couldn't be simpler or quicker – just put everything into a blender and blitz it.
Don't use boiling water as blending very hot liquids can be dangerous. You only really want tap hot water anyway.
Don't cook the broccoli – use it raw.
Credits: you can thank Emily von Euw for this inspired recipe.